Guide dogs for the blind - Eli just wants to be a dog!
13-05-2013
On August 4th 2011 Elite's sponsored puppy Eli was born!
Eli is a black Labrador from a large litter of puppies, his mother and father are Cookie and Mason, his ten siblings are Buddy, Ernie, Eric, Spencer, Ron, Edward, Elliot, Gracie, Tasha and Evie.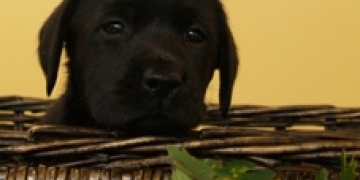 How does Eli become a guide dog?
0 to 6 weeks
Eli will be living with his mum and siblings in a Guide Dog volunteer's home. As well as playing, exploring and napping, he will go to a state of the art breeding center where he will receive health checks and at six weeks his immunisations.
6 weeks to 4 months
Eli will move to his Puppy Walker's home. During these crucial months, he will start learning good manners and basic commands, such as 'sit' and 'down' - as well as how to walk on the lead.
12 Week update
Now that Eli is twelve weeks old we have had news on his progress from his puppy walker.
"From the day that Eli arrived he has been sleeping through the night and is already feeling at home. He has made a good start with his training and seems to enjoy being out and about exploring the world around him. He has visited shops, supermarkets and garden centers and has even been to the town center, he shows no concern about the crowds or loud sounds.
Eli is doing very well with his basic command work. Having mastered 'sit' and 'down' we are now working on 'wait' this is a big ask of a little puppy and it is something that he will learn in time. He has only just started lead work but this is going well. He was happy to have his collar and lead on and will stride out in front, if anything he is too enthusiastic! Again this is age related and something that will come with maturity and practice.
At home Eli's favorite toy is a bear that he loves to take everywhere and curls up with to sleep at night, he is adorable and I love having him"!
6 Month update
Now that Eli is six months old we have had more news on his progress from his puppy walker.
"Eli is a cheeky, playful, loving and social boy who is beginning to hit the teenage stage and push the boundaries.
Like most dogs, Eli loves his free runs and his recall is generally good, although sometimes other dogs can distract him from coming back to me as soon as he is called. The rest of his general obedience is good and he understands 'sit', 'wait' and 'stay'. He also knows 'down', but is not too keen to actually perform the command!
Eli does struggle when walking on the lead, he either pulls or he will sit and refuse to move. This is typical puppy behavior: he is easily distracted and needs to learn to focus on the task in hand.
In busy situations Eli can show some anxiety, he is not an overly confident puppy, however he is getting better with traffic and with perseverance I hope that his confidence will increase.
Eli is very good when travelling by car and okay when travelling on the bus, over the next few weeks I intend to take him on buses regularly. I have taken him to the train station to experience the sights, sounds and smells associated with trains. He wasn't too sure at first, but didn't show anxiety and after a few more visits he should be ready to try getting on and off a stationary train, before finally taking his first journey.
Stairs and lifts have been problematic for Eli, but he is starting to show great improvement with walking up and down stairs on the lead. The first time he travelled in a lift he was sick, but with lots of encouragement and a few treats he is now relaxed in lifts and is doing well.
I take Eli to the vets regularly to be weighed. He loves going to the vets, he pulls me in and much to the amusement of the other customers, he refuses to leave!
At home, Eli is quite a cheeky puppy, he follows me upstairs and steals my husband's slippers, then runs back downstairs with them. Another naughty habit is to go outside and pick up a pebble in his mouth. He comes back inside, lies down and chews on it. If I look at him he stares back innocently until I look away and then happily goes back to chewing his pebble.
Eli seems to enjoy all aspects of his training, especially anything that gets him a reward? Everything seems to slowly be clicking into place."
10 Month update
Now that Eli is ten months old we have had news on his progress from his puppy walker.
"Eli is a lively and excitable puppy, he has grown in confidence in some areas although I believe that there may be some underlying anxiety which is presenting itself in the form of low task focus.
Eli is able to walk nicely on the lead for short periods of time and will adopt the correct guiding position - on the left hand side just a little ahead with a light tension on the lead. However he is not able to maintain this for long as he wants to greet people and other dogs.
He shows a slight reluctance to work on occasion too, still hanging back. Due to a leg injury his training has been disrupted so we expected him to be slightly behind. He is now back getting out and about but has not resumed full training as health tests are still being carried out to ensure his suitability as a working dog.
Eli seems happier in town centers now and is traveling well on all forms of public transport. An additional area that is much improved is Eli's use of stairs and lifts.
Eli has come along way in the past ten months and I hope that your are as proud of him as I am. There is still a lot for him to learn and we hope that he will be able to continue on his journey to becoming a guide dog however we will have to wait and see the results of his health checks as we need to be sure that this is the right path for him."
14 Month update
After months of hard work and training we are sorry to announce that Eli has been removed from training.
"It has become apparent over the last few months that Eli was not going to meet the demanding standards that are required, it was explained to us quite simply Eli just wants to be a dog."
Rest assured that Eli will be found a very good home and we will keep you updated has he settles in his new home.
After the initial sadness and disappointment we have decided to name another puppy, we are now going through the process of choosing a name, we welcome your suggestions.
As always we will keep you updated on progress.
---
Call 01785 286648
0800 - 1630 Monday - Friday
or email us at
Recent News