Getting your life back to normal is our top priority
07-03-2017
Last week, the Met Office issued an amber weather warning throughout the UK advising of the need to "be prepared" for Storm Doris.
Storm Doris swept through the UK and took hold of the Midlands with winds over 90mph.
For some the results were devastating. Severe gusts of winds were the result of intense low pressure that "explodes" when it travels underneath a powerful jet stream, leading to thousands of homes and businesses being left with damages and the need for insurance repair.
The impact of adverse weather and its impact on homes and businesses can be significant and the emotional stress and damage to property distressing.
Elite recognise the need to return our customers' lives back to normal as quickly and safely as possible, and it is our commitment to the highest standards and industry-leading equipment that has ensured we have been able to respond to the increased demand for insurance remediation services.
Roof damage incidents have particularly increases as a result of the recent weather and as part of our continued effort to improve our high property accessibility and the speed we fulfil our services, in October we purchased a truck-mounted, Isoli 21m access platform.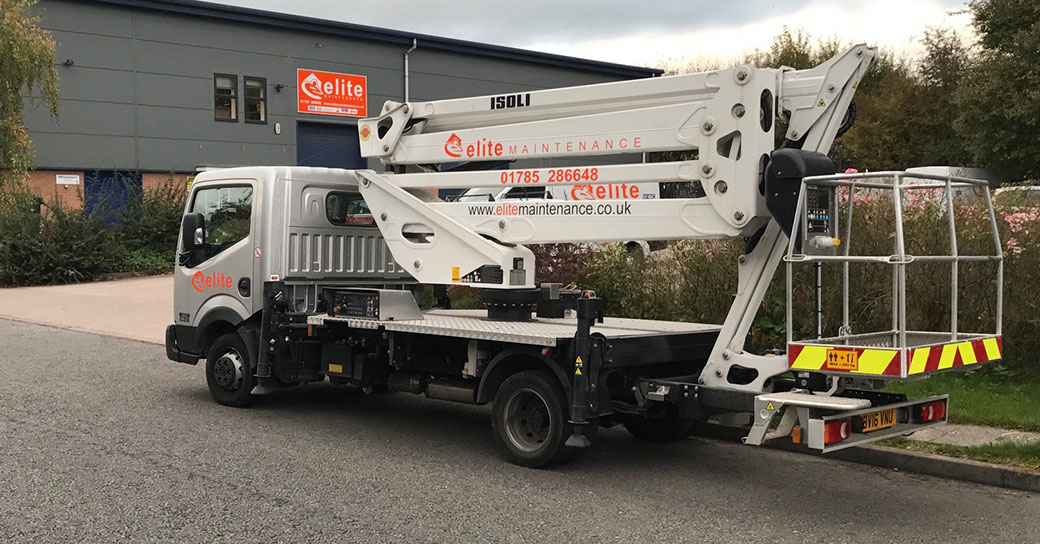 This platform comes equipped with dual pantograph boom configuration, enabling "up-and-over reach" allowing increased access for our operatives in addition to providing the ability to work at lower heights without dangerous tail projection into the path of passing traffic.
In addition, safety and responsibility is always at the forefront of any work we complete. Should any repairs require scaffolding, we will visit twice before any work commences. First to check the need for scaffolding and then again to ensure the scaffolding meets all safety standards.
Andrew Orme, Elite Maintenance's Managing Director said, "We care about what we do and understand how upsetting any property damage can be.
The recent weather has demonstrated how vulnerable we all are to the elements, and we believe in providing the best service to ensure all repair needs are fully met quickly, efficiently and safely."
Whether it's a residential or commercial loss, we appreciate the importance to return to day to day living within the quickest possible time frame. We work closely with the insured, as well as the insurance company to ensure situations and requirements of all are met.
Should you require our services, our helpful and friendly office staff is on hand between 9.00am and 5.00pm to answer your calls, responding to your questions, needs and concerns immediately.
---
Call 01785 286648
0800 - 1630 Monday - Friday
or email us at
Recent News