Elite Maintenance – excited to announce new website!
23-12-2016
Elite is an established, multi-trade property insurance repair contractor and house builder remediation specialist. The launch of our new website will increase our opportunity to work with the largest companies throughout the UK as well as directly with homeowners to liaise with insurance providers to restore their homes.
We understood there was a need to improve our website visually, but also to assist visitor experience and generate more leads.
Built in partnership with web development company Dusza, with a user-focused, responsive website design plus mobile and tablet compatibility, accessing and contacting Elite is now easier than ever.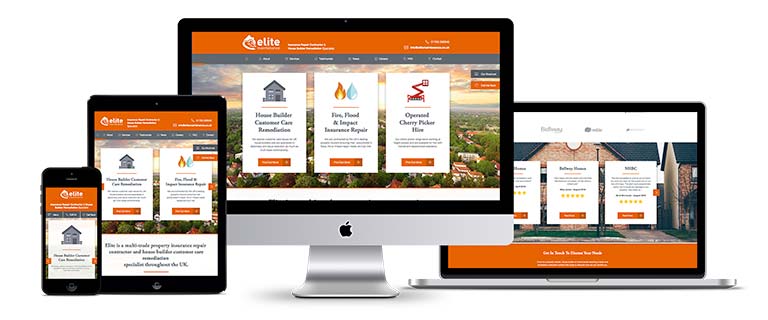 In addition to service information and client testimonials demonstrating our level of service utilising our 20+ years of experience, the new website provides visitors with a downloadable brochure, contact and call back forms, easy to complete online vacancy forms for operatives and administrators, as well as the latest news about our team, services and client successes.
Discussing the new website, Andrew Orme, Director of Elite Maintenance said, "Having operated since 1990, Elite is a well established company that is known throughout England. We feel our new website demonstrates our professionalism, willingness to progress and the care we put into every job for every client.
The new website has significantly improved our online image and is a true representation of all the hard work put in by the whole Elite team."
Dusza's managing director, Stephen Clark, added, "In today's competitive market place, having an out of date website presence is almost as damaging to a company as not having one at all.
A website is now the first point of contact with a new client, it is the public face of every company and if yours doesn't quickly and concisely build rapport and credibility, then its likely reflected in the quantity and quality of leads being generated.
A common mistake from trade-focused companies, who are already successful, is simply that they don't always recognise the need to continually invest in their brand image. I'm pleased to say that these concerns don't apply to Elite, their management team resolutely understand that their website is the most powerful sales tool they have.
This latest generation responsive website perfectly communicates a compelling value proposition to their target audiences. Web development company Dusza and Digital Marketing experts

Hyperbrand worked collaboratively from design and tech to a digital marketing strategy that directly supports the company's ambitious growth plans.
We're really proud to be working in partnership with Elite, they're a forward-looking company who have entrusted us with their online presence for the past 8 years."
Everyone at Elite Maintenance hope you enjoy the website and should you require any of our services, please don't hesitate to contact our team.
---
Call 01785 286648
0800 - 1630 Monday - Friday
or email us at
Recent News