We want to show cancer who's boss!
08-09-2014
The Elite girls take on Pretty Muddy 5K
The Elite Maintenance girls are taking part in the Pretty Muddy 5k event on the 14th September 2014 in aid of Cancer Research.
Pretty Muddy is a 5k mud run with various obstacles along the way to ensure that you really do get muddy!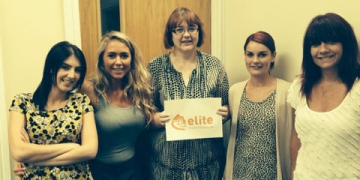 What the girls had to say:
"We all know someone close to us who has been affected by Cancer and how devastating it can be. We want to raise as much money as we can for Cancer Research. Every pound donated really counts, we really encourage everyone to donate to the cause."
If you would like to make a donation you can do so by visiting our Just Giving page, please click the link below
https://www.justgiving.com/elite-maintenance/
Or if you prefer, you can donate by Text:
Just Text ELIT55 along with your amount to 70071
Andrew Orme, Managing Director commented
"I am confident that the girls will reach their target, they are all very excited about the event and aware of the important work that Cancer Research does. If they reach their target of £600 I will personally make it £1000!
Good Luck Girls!"
Look out for updates and images from the event and most importantly the donation target!
Target Hit....And Some!!
Friday 5th September 2014
Donations Reach £1,054.00!
Thank you to everyone for your generous donations and support to date.
We have succeeded in beating our original target of £600.00 with a week still to go before the event.
Our aim is now to try and reach £1,200.00 double our original target.
Please click on the link below to visit our just giving page for more information or if you would like to donate.
https://www.justgiving.com/elite-maintenance/
Many thanks
Elite Maintenance Customer Care Team
---
Call 01785 286648
0800 - 1630 Monday - Friday
or email us at
Recent News