How I improved my business & saved 24 hours a week. I love IT.
05-09-2016
Since 1990, Elite has been recognised as one of the leading residential insurance repair and remediation companies throughout England. However, as the business grew it became increasingly obvious that the administrative processes required a dramatic change.
Administrative process crisis
In 2011 it had become obvious Elite had a workflow efficiency issue. Our multi-trade maintenance service would always reach the highest standards, however the administration side of the business was proving to be time-consuming and a poor use of our resources.
A multi-faceted admin process including emails, faxes, Sage software, printers, hand-written references, spreadsheets, more faxes, and many phone calls, all added up to a labour intensive process.
With an uncompromising desire to provide exceptional customer service, but with nearly 50 operatives, each with multiple jobs per day, it was an unsustainable system.
Managing Director, Andrew Orme, described how he sought to fix the admin crisis,
"My job was to find a solution. I really didn't know where to start so I spoke with friends who had some IT knowledge, and I also explored so-called off-the-shelf solutions."
"I then spoke to several companies who claimed they could solve all my issues without even visiting me."
Changing The Problem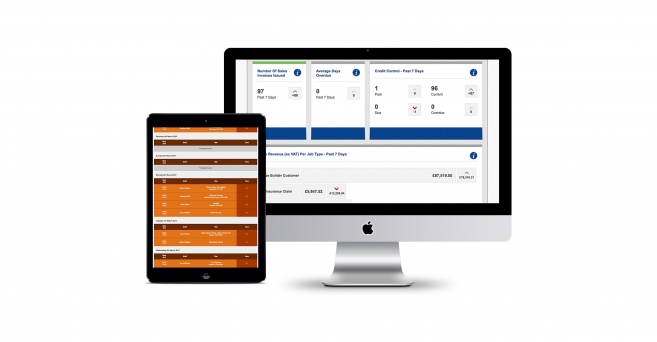 Realising the need was an IT solution but not being satisfied with off-the-shelf options or suggestions from those who didn't truly understand Elite's situation, Andrew realised that bespoke software may be the solution to his work-flow problem.
Purely by chance Andrew was visiting a client's site and saw a construction contractor whose entire team were using tablets to manage their work. Following a conversation and recommendation, Andrew made contact with web-based software development agency Dusza and its managing director Stephen Clark.
Stephen proceeded to spend two days with Elite at our HQ to fully understand our systems and just how they weren't working.
Stephen said, "It's actually a common situation with trade based companies, like Elite, who have seen rapid client growth but haven't the insight as to how best improve their administration. I instantly recognised that Elite's success was due to their unique approach to business, they are genuinely customer focussed and intent on such a high standard of service. What they do is basically unmatched in quality.
Unfortunately, due to their unique approach they had created many equally unique processes, and these processes required lots of manual input.
To be blunt, the uniqueness of their processes would never be found replicated in any off-the-shelf solution. The lack of such a solution combined with their lack of knowledge (at the time) when it came to the benefits of bespoke software, led to Elite throwing admin at the problem. Elite's administration resources and overheads grew to ensure their quality of service was never at risk, as they got significantly busier.
I explained to Andy that we could build a solution that safeguarded how he liked to run his company and then amplify Elite's success by them becoming better, more efficient at what they did. Do more with less and leverage their ever-improving reputation.
We designed a solution that almost eliminated human error, increased accuracy, improved their admin team's consistency, improved their customer care KPIs, connected field operatives to the office and basically solved a large number of business issues all at once. The difference to the business was tremendous."
Benefits to Elite and our clients
Within weeks of the bespoke, mobile-enabled management system being implemented, Elite saw significant savings of approximately 24 hours per week in the office alone and had a direct impact upon business savings.
With the new system in place, immediately everyone was working to exactly the same processes. The administration team could allocate each other work, and via mobile device the field operatives received their work, completed time sheets, received updates, added photos, took their toolbox talks, and even customer signatures for quality assurance could be added. Elite were almost now entirely paper free.
As a result of Elite's management system investment, workflow and efficiency continues to improve and now provides a better system for our staff and offer a better service to our clients than our competition. Stephen concluded, "Since launch, we've worked with Elite to evolve their solution meaning it will never become obsolete and will always leverage the best out of the latest technology and techniques. As soon as their clients demand something 'more' or 'different', where their service offering adapts or the market changes, Elite is in an advantageous position - they are absolutely ahead of their game and I'm pleased to see them go from strength to strength."
When asked if the Dusza system had helped Elite improve, Andrew said, "The system has been in operation around 5 years now.
We would be unable to operate at current volumes whilst tracking projects and operatives in such detail that the Dusza system allows, for that reason I can honestly say we could not be without it."
---
Call 01785 286648
0800 - 1630 Monday - Friday
or email us at
Recent News