Guide dogs for the blind - Meet our new recruit!
25-07-2014
Meet our new sponsored puppy Chisel!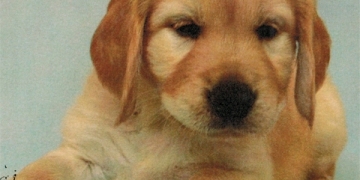 Chisel, a Golden Retriever, was born on the 25 June 2013. His mother is Zoe, his father Casper and his siblings Daisy, Darcy, Hartley, Millie, Ruby and Rusty.
Becoming a guide dog
0 to 6 weeks
Chisel is living with his mum and siblings in a Guide Dog volunteer's home. As well as playing, exploring and napping he is going to a state of the art breeding center where he receives health checks. At six weeks he will have his immunisations.
6 weeks to 3 months
Chisel has now moved to Margaret's home, his puppy walker. During these crucial months, he has started to learn good manners and basic commands, such as 'sit' and 'down' - as well as how to walk on the lead.
3 Month update
Margaret, Chisel's Puppy Walker has updated us on Chisel's progress at 12 weeks:
"Chisel has settled in very quickly and already weighs 11.2 Kilos. He has had his final vaccinations so he will be able to explore the outside world rather that being carried around.
Trips to the local shop and supermarket are already part of his regular routine. He has mastered several commands such as 'Sit' and 'Wait' and he is currently working on 'Down'.
Chisel has taken to his collar and lead with ease, he has already out gown his first collar! And when out for walks he takes in all his surroundings.
At the end of a busy day Chisel likes nothing more than playing with Dougal (my 10 year old dog) or one of his favorite teething toys"
6 Month update
Margaret has once again updated us on Chisels progress:
"Chisel has really grown into a bouncy character and gets on really well with everyone he meets. Chisel has grow an impressive amount and now weighs 22kg, he has a very healthy appetite and eats well.
He is a very social dog and loves getting out and about, he has been attending several assemblies at the local schools to raise awareness of the importance of Guide Dogs.
When Chisel isn't working he loves to practice and learn tricks at his puppy classes. He is very responsive and intelligent and loves a challenge."
10 Month update
Margaret has been in touch to update us on Chisel's progress:
"Chisel loves work and it's been suggested that he should head off to training school as soon as possible. The only thing that bothers Chisel is the lawn mower! Other than that he is pretty laid back.
Chisel has mastered all of his basic commands and never has to be asked twice. He is now walking in the correct guiding position, (on my left, slightly in front, and only light tension on the lead).
Chisel is pretty relaxed in most situations, when he visits restaurants he will lie quietly under the table. He even stayed calm and relaxed on a trip to Birmingham airport where the planes were landing very close."
Our Sponsored Guide Dog For The Blind is now One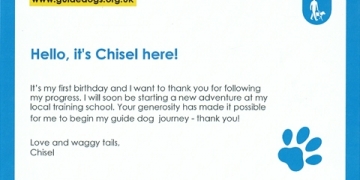 Now that Chisel has reached his first birthday he is heading off to start formal guide dog training.
Once completed Chisel will move on to the National Training School to take his training to the next level.
Well Done Chisel!
---
Call 01785 286648
0800 - 1630 Monday - Friday
or email us at
Recent News